Women who feel self-conscious about drooping breasts may desire firmer, shapelier breasts. A breast lift performed by Honolulu, Hawaii, plastic surgeon Dr. Shim Ching directly fixes this concern. If you are in or near Honolulu or Kuwait and are considering a breast lift, request a consultation with Dr. Ching to learn more about the procedure. Or, you can call our office to schedule an appointment.
Breast Lift Before & After Photos
Keep in mind that each patient is unique and your results may vary.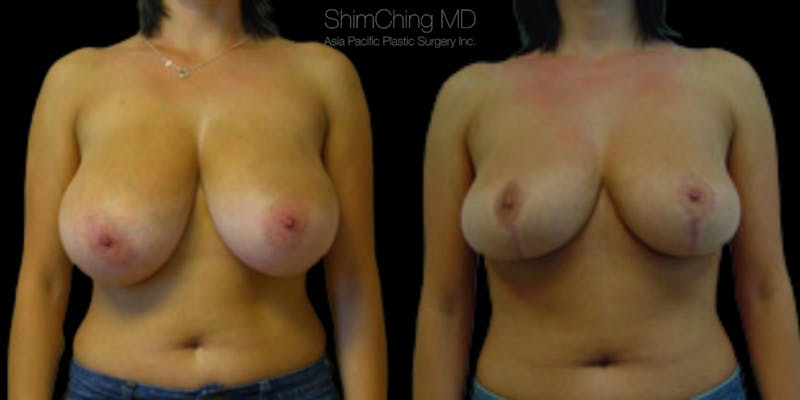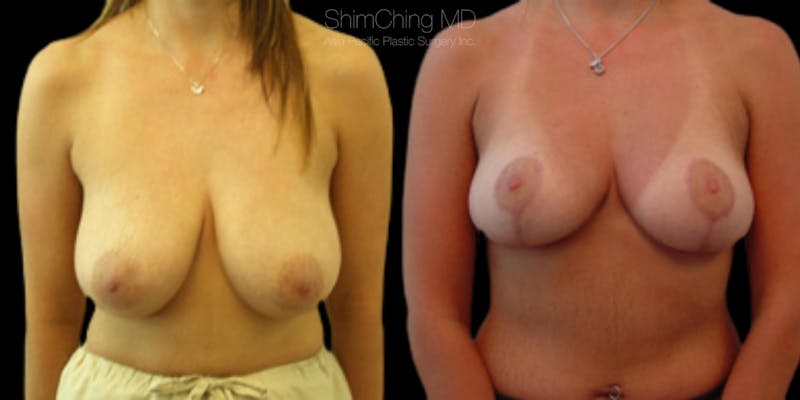 What Is
a Breast Lift?
A mastopexy lifts the breasts without making them larger. A breast lift can also reduce the size of the areola (the colored skin surrounding the nipple). A breast lift procedure, which can utilize minimal incision techniques, is often combined with breast implants to obtain dramatic improvement in breast shape. Ideally, a breast lift is done with implants alone. Simply placing implants can lift the breast by filling out the loose skin and breast tissue.
Mini-lifts, in which implants are placed and a small crescent of skin is removed above the areola is another minimal scar approach to lifting the breasts. Often with these more minimal approaches, the implant is placed over the muscle, in a subfascial position to give the breasts the most lift possible from an implant alone. These techniques work well when the amount of breast drooping is mild.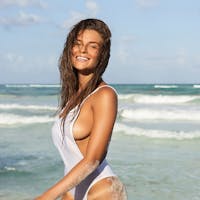 Breast Lift With Augmentation
When the degree of drooping increases, more breast skin, and breast tissue must be removed to adequately lift the breast. You can also combine the lift with breast augmentation. Implants are optional, but most patients want the increased size of the breast and fullness of the top half of the breast that is lost with age and pregnancy.
In these cases, a vertical breast lift technique is preferred, where there is a scar around the areola and a vertical scar underneath the areola. When the amount of drooping is greater, a Wise pattern breast lift is performed where there is an anchor-shaped scar – a scar around the areola, a vertical scar under the areola, and a scar across where the breast meets the chest. When these techniques are used, the implant is usually placed below the chest muscle. Saline or silicone implants can be used in these types of breast lifts.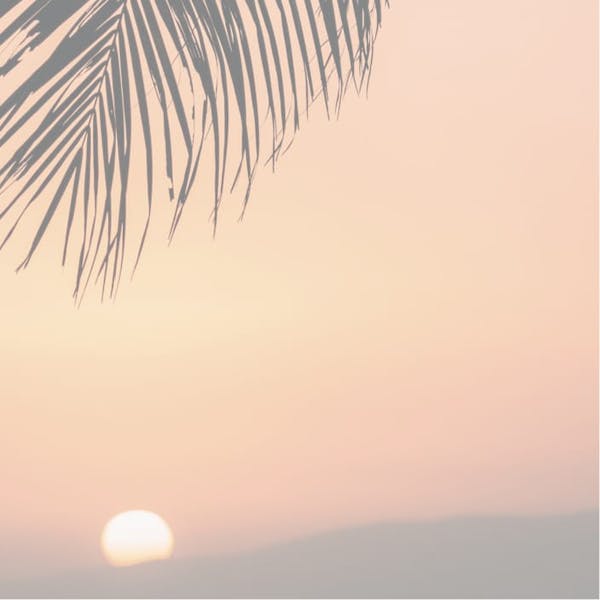 Dr. Shim and his entire staff are exceptional. Dr. Shim has a comforting bedside manner and I am more than happy with my results. He takes his time to hear your concerns. Thank you Dr. Shim and staff.
Dr. Shim Ching
Board-certified plastic surgeon Dr. Shim Ching is one of Hawaii's most renowned physicians for aesthetic procedures of the face, breast, and body. His attention to detail, skill, and mastery of surgical techniques produce remarkable, natural-looking results.
Your Procedure
The choice of procedure really depends on the patient. Before your consultation, you should think about whether you wish to have minimal scarring or to have more scarring on the breast to give the best breast shape possible.
Also, are you seeking an increase in size or just lifting of the breasts? These are usually the most important issues that will allow Dr. Ching to determine the best surgical approach for you. He can also help you determine whether you would also be a candidate for a mommy makeover, which incorporates a breast lift with body contouring in a combination procedure.
Directions for our fly-in patients
Dr. Shim Ching's exceptional qualifications and results draw patients to his Honolulu plastic surgery practice from across the Hawaiian Islands including Maui, Kauai, and the Big Island. Select a location for driving directions to our practice.