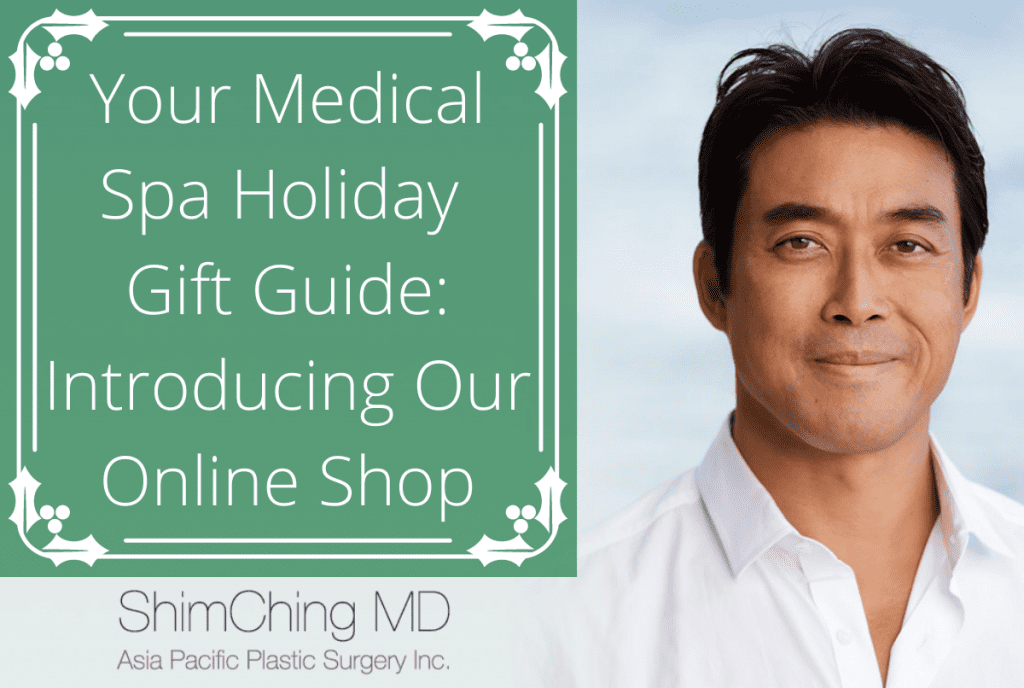 Your Medical Spa Holiday Gift Guide: Introducing Our Online Shop
Your Medical Spa Holiday Gift Guide: Introducing Our Online Shop
Looking for the perfect gift this holiday season? Look no further! Give the gift of confidence with products, treatments, and packages from Asia Pacific Plastic Surgery's new online shop. In addition to great deals on BOTOX® Cosmetic and more of our Honolulu practice's most popular procedures, you'll find gift boxes, medical-grade skincare products, and exclusive monthly sales you won't want to miss.
We're thrilled to announce our online store's launch and hope it will make your holiday shopping that much easier! Visit the shop now at shopdrching.com.
What You'll Find in Our Online Shop
When you shop online at Asia Pacific Plastic Surgery, you'll get access to:
Monthly promotions and specials
Discounted package pricing on medical spa treatments
Medical-grade skincare products you can only buy through a physician
Specialized beauty tools and gadgets
Whether you're shopping for gifts or treating yourself, it's an easier way to purchase treatments and have products shipped straight to you.
View this post on Instagram
Your Holiday Gift Guide
Not sure where to begin? Here are a few of our recommendations for gifts you can order online today.
For the Man in Your Life
This anti-aging skincare system was designed by men, for men. The comprehensive kit contains a facial cleanser, a daily skin renewing cream and serum, an exfoliating mask, and a hemp sports towel, all stored within a black leather toiletry bag. It provides an easy step-by-step system for revealing healthier and younger-looking skin.
For the Skincare Fanatic
Omnilux Contour LED Flexible Mask
This is the ultimate skin rejuvenation gadget to complete any skincare lover's collection. Just a few 10-minute sessions a week with red or near-infrared light reduces fine lines and wrinkles with no discomfort or downtime.
For Just About Anyone
Treat someone you love to a gift set packed with products, treatment coupons, and gift certificates that support local businesses. Your lucky recipient will get 25% to 30% off CoolSculpting®, injectables, and other select treatments, along with a collection of SkinMedica® products and much more.
For the Person Who Has Everything
Give the gift of choice with a certificate to Asia Pacific Plastic Surgery. These certificates are valid for all nonsurgical services. They're a perfect way to gift someone a treatment they've had their eye on or let them explore everything we have to offer.
Remember to Treat Yourself, Too
Don't leave yourself off your gifting list! For personalized product and treatment recommendations, start by scheduling a virtual consultation with one of our medical spa team members. Join our VIP program to unlock even more exclusive savings on everything you love at Asia Pacific Plastic Surgery.
To learn more about our online shop or any of the items we offer, please contact us online or call (808) 585-8855. To start shopping, visit shopdrshimching.com.